Performance Additives
Additive masterbatches are commonly used in plastic manufacturing to enhance the physical properties of the material. A good analogy for this could be a motorist adding antifreeze to the water in their car's coolant system to prevent freezing. Similarly, the performance of plastics can be enhanced with various additives; each altering the properties of the polymer in a different way, to meet different requirements.


+ performance denotes our range of performance enhancing materials. Broadway's performance-enhancing additives can deliver a range of important benefits for our customers. We provide additives to improve processing or enhance the performance of your end component. We can supply additives as a stand-alone masterbatch, we can formulate additive compounds, or more commonly we'll incorporate additives into your coloured masterbatches. Our expert team will tailor the addition rate of your additive for exact manufacturing conditions and specific end use requirements.
+ performance: Broadway's range of performance enhancing additives for plastics
Additive masterbatches add value to plastic components. Broadway's performance-enhancing additives can prolong the life of a product and help ensure it meets the needs of consumers. If you require a specific additive which isn't referenced below then please give us a call. Our expert technicians are always on hand to develop new solutions. Our range continues to evolve in response to market demands.
UV Protection

Broadway's UV protection additive will improve the lifespan and reduce degradation of plastic components for outdoor applications. UV additives have two components; a UV absorber and a UV stabiliser. The UV absorber acts as a sunblock and prevents the penetration of UV light. In most cases this is used to preserve the life of a colour and prevent it fading in sunlight. The UV stabiliser hinders the degradation of the material, meaning the product will last longer when exposed to UV rays. In order to provide optimum protection, we can tailor the loading of this additive to meet your specific requirements. This is usually determined by the predicted lifespan and geographic location of the sold product.
Antimicrobial

So many product briefs require antimicrobial properties. This additive is extensively used in hospital and care home equipment. The trend to incorporate antimicrobial additives into plastics has never been more prevalent than it is today, in the wake of the Coronavirus pandemic.
Broadway's antimicrobial additive is based on silver ions. Our antimicrobial masterbatches will hinder the future growth of bacteria on the surface of your mouldings. With the inclusion of this additive, your products can benefit from a 99.9% reduction in the spread of surface bacteria, thus preventing germs, discolouration, and odours from developing. We offer antimicrobial as a stand-alone additive, or it can be incorporated into our custom colour masterbatches.
Anti-Counterfeit

Broadway's anti-counterfeit additive aids protection against piracy and helps to preserve your brand's reputation. With thousands of fake goods entering the market every day, the need to protect the identity of your products is more vital than ever. Uncertainty regarding whether products on the market are genuine or not can result in product recalls. These have been known to cost businesses dearly, damaging finances and consumer perceptions. By incorporating our anti-counterfeit additive into your packaging you can be sure to determine whether a manufactured item is genuine or not. The presence of this colourless additive is detectable using a small laser pen or acoustic detector. This allows genuine products to be distinguished from counterfeit versions, which will show an absence of this additive. Our anti-counterfeit solution can be produced as a masterbatch on its own to dose alongside your existing masterbatch stock, or incorporated into new custom colour formulas for a more cost-effective solution. For brands with specified colour masterbatches, this additive can also be useful in ensuring genuine materials are being used in the production of your goods. We therefore recommend inclusion of this additive wherever possible in branded products.
Anti-Static

Engineered by Broadway to eliminate the build up of static electricity during manufacture, this additive is used primarily to help disperse pigments, and to prevent masterbatch pellets from sticking in dosing units. Increasing the loading will also stop dust sticking to the surface of finished products in the long term. Another application is for products manufactured for non-sparking environments. The additive is migratory and essentially dissipates the charge, preventing arcing. The anti-static properties prevent ink adhering to the surface, so this additive is not suitable for applications where the plastic is to be printed.
Mould Release

Broadway's range of mould release agents reduce surface friction of moulded parts and components. This is particularly useful for releasing parts from a mould that have more complex surfaces, such as a screw thread, for example. For polyesters and styrenics mould release agents also offer anti-scuff properties, to reduce marks and scratches during manufacturing and transportation. There are other added benefits too – mould release agents can also aid processing by easing the dispersion of colour and potentially decreasing cycle times. This additive is compatible with a wide range of materials and can be supplied as a stand-alone additive or incorporated into a custom colour masterbatch.
Laser Marking

Traditionally, containers have been marked with printing to add information such as lot numbers and sell-by dates. By using this additive masterbatch, the surface of the plastic can be marked directly using an industrial laser. The advantage of using lasers over labels is their flexibility. With labels, a slight change to the spec could mean scrapping printed labels and starting again, incurring greater costs for design, print and application. With lasers, a simple programming adjustment is all that's required. Laser-marking can also be utilised for decorative applications and for marking plastic keys, tags and buttons. This additive can be combined with other effects to provide visual enhancements at the same time. Often used in the packaging of consumer goods, this effect offers the ultimate solution for marking your products quickly, permanently and cost effectively.
Frosted

Our frosted effect is achieved with a special additive – this one is more about appearance than performance.
According to our customers, Broadway's frosted effect is the only PET effect on the market to give a true frosted finish. Utilised in injection stretch blow moulding, this effect is particularly useful in trans colours. In opaque colours, the effect is great in allowing a matt finish to be achieved, without the need to switch or 'spark' (modify) your tool. The effect does not impact printing or labelling, further increasing its versatility. The beauty of this effect is that it can be added to any existing PET colour you have. The effect can be supplied within a colour masterbatch, as an additive for natural bottles, or to combine with your existing stock colours.
Blowing Agent

Broadway's in-house team has developed a new blowing agent masterbatch, for use in various moulding and extrusion processes. This product is based on an endothermic reaction, this is less hazardous than the more widely available exothermic blowing agents. Blowing agents create a foaming effect in the moulding material during production, allowing air pockets into the end product. The main purpose of blowing agents in plastic manufacturing is to reduce the density of the moulding material. This can offer a number of significant benefits, as summarised below;
✓ A reduction in costs, without the need for any tooling changes
✓ A reduction in weight of the moulded component
✓ A reduction in material usage, improving the carbon footprint of the moulding
✓ Prevention of sink marks
✓ Increased shot speed and reduced cycle times
✓ Improved strength-to-weight ratio (dependent on polymer grade and additive dosing)
✓ Improved thermal efficiency of the final part
✓ Improved acoustic insulation of the final part
The reduction of weight is especially important in automotive applications such as door panels, dash boards and structural parts. Reducing weight and improving thermal efficiency is also beneficial in components used within the construction industry.
Trials with industry partners have provided excellent results. Weight savings of almost 10% were achieved on a packaging component, when using Broadway's blowing agent masterbatch at just a 1% addition rate. Importantly, this came with no reduction in quality. There was no perceivable difference between the mouldings with and those without the blowing agent. The below illustration shows the savings this could deliver on a 100 tonne production run.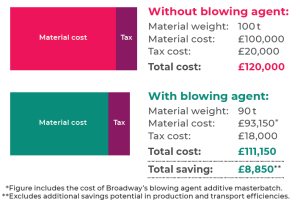 Odour Neutraliser

Whilst there are obvious circularity advantages to using recycled materials, there are challenges too, such as the smell! Recycled plastics can come from a range of sources and carry a multitude of contaminants, many of these cause odours which are problematic during production and can remain present in the end component. Even some virgin plastics can carry smells which need eliminating. Whilst these can be masked with a fragrance, this isn't always desirable, particularly in applications such as toiletries or food packaging. It's also a temporary solution, which soon fades, meaning end products can still present undesirable odours.
Our R&D scientists invested months of research, exploring odour neutraliser additives for plastics. They consider these a more effective and permanent solution than attempting to mask smells with a fragrance. Specialist chemicals within our odour neutraliser additives act to absorb and trap VOCs and other odour molecules. This significantly reduces the amount of odorous particles which are released, therefore reducing the perceived smell of the material. We've explored a number of functional additives in order to find a commercially viable solution which delivers optimum performance.

Can I get a free sample?
In many cases, small samples can be obtained free of charge. Please call us to discuss your requirements. Postage costs for samples will be dependant on location.
How long will it take for me to get a sample?
A colour sample from our universal range can often be delivered on a next day service. If you request a sample for a custom colour match then this will typically be dispatched within 5-7 working days of receipt of that request, along with your sample plaques.
What are the minimum order quantities for Broadway's materials?
Universal Masterbatch: 1kg Custom Masterbatch: 5kg Custom Compounds: 25kg Universal Roto powders: Small lots available in multiples of 20kg Custom Roto powders: 1,200kg
How long will it take for my order to be dispatched?
Universal Masterbatch: From one working day (dependent on current stock availability) Custom Masterbatch: From five working days (dependent on current production schedules) Custom Compounds: From five working days (dependent on current production schedules) Universal Roto powders: From one working day (dependent on current stock availability) Custom Roto powders: From three weeks (dependent on current production schedules) Please remember to allow time for delivery. Broadway deliveries are reliant on external courier services.
What is the cost of delivery?
Broadway do not add separate delivery charges for production orders. For our universal range, we do charge a delivery fee of £7.50 for orders under 25kg, delivered within the UK. This charge may increase for international deliveries, please ask for confirmation when placing your order.
Which polymers do Broadway manufacture masterbatches for?
Broadway provide polymer specific masterbatches for use in HDPE, LDPE, PPCO, PPHO, PET, PBT, GPPS, HIPS, ABS, PA66/PA6, SAN, PETG and TPE/TPU. Our Universal Colour Range is designed for use in a variety of polymers.