What is an antimicrobial masterbatch?
Additive masterbatches are commonly used in plastic manufacturing to enhance the properties of moulded components or to improve processing. In the wake of the COVID-19 pandemic, hygiene, and in particular, efficient measures to counter the spread of harmful bacteria, remain a global priority. An antimicrobial additive masterbatch is a popular and logical choice for any brand or manufacturer seeking to inhibit the growth of harmful bacteria on the surface of their plastic mouldings.
Broadway's antimicrobial solution is based on silver ions, known for centuries for their antimicrobial properties. The active ingredient is encapsulated within a pelletised masterbatch. This makes it easy for plastic moulders to dose and distribute the additive evenly throughout their base polymer during the manufacture of their components.
Can the antimicrobial additive be included in a colour masterbatch?
Yes, is the short answer. The antimicrobial additive can be combined with colour and provided as a combined masterbatch. This means only one masterbatch needs to be dosed into the moulding material during production, providing both colour and antimicrobial properties.
The alternative is for the antimicrobial formulation to be supplied as a stand-alone additive masterbatch. As the additive is colourless, it won't impact the end component colour when dosed alongside an existing colour masterbatch in production. This may be useful if a moulder is using a specified brand colour which they can't have reformulated, or if they have existing colour masterbatch stock which needs to be used. The drawback to this approach means two different masterbatches must be dosed during production, as opposed to just a single, combined masterbatch. The advantage of a stand-alone additive masterbatch is that the dosing of colour and the antimicrobial additive can be adjusted independently if required.
Can an antimicrobial additive be supplied in any other way?
Broadway are also able to supply an antimicrobial compound. As with masterbatch, this can just include the additive, or it can be a combined additive and colour compound. A plastic compound is the complete material needed for moulding. It includes any colour, additives, processing aids and the base polymer, all homogeneously blended. This makes things even more straightforward for the plastic moulder. By using a single material, plastics manufacturers negate the need to dose and distribute any masterbatches in their moulding process. Broadway can also grind LLDPE material in order to supply an antimicrobial rotational moulding powder.
What are the advantages of using an antimicrobial masterbatch?
Broadway's antimicrobial masterbatch can achieve a 99.9% reduction in the spread of surface bacteria. It's specially developed to inhibit the growth of microorganisms on the surface of plastic mouldings. Suppressing the growth of dangerous bacteria throughout a product's lifespan can have obvious advantages for a range of applications. This can also help to maintain a product's appeal throughout its lifespan by reducing discolouration and the development of odours, without the need for regular cleaning.
Broadway's antimicrobial masterbatch is effective at low addition rates, it adheres to FDA, EU food contact and other regulatory standards and is suitable for use in a wide range of polymers. This makes it a practical solution, providing protection without the need for changes to the manufacturing process.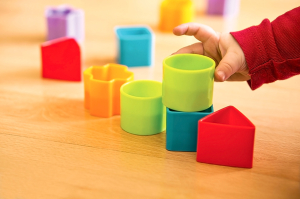 In which applications could an antimicrobial additive be used?
Broadway's antimicrobial masterbatches, compounds and rotational moulding powders offer the perfect solution for plastic products in the battle against bacteria. Our highly effective antimicrobial additive provides reassurance for several market sectors:
Healthcare
Plastic components are used in a huge number of medical applications, of course any measures to stop the spread of surface bacteria are highly advantageous in such environments.
Household
It's important to safeguard against the spread of bacteria in the home. Household surfaces, kitchen utensils, cutting boards and toothbrushes are just some examples of plastic household items which benefit from antimicrobial protection.
Toys
Toys frequently get dropped, chewed and touched by grubby little fingers. This provides a perfect environment for surface bacteria to develop. Taking any measures to reduce this growth with antimicrobial additives helps to offer increased protection and safety to children.
Sport
Plastic items such as whistles and gum shields come into contact with saliva, which carries bacteria. Adding an antimicrobial additive to such items will help to protect the user from the buildup of harmful bacteria.
Electronics
Phones, phone cases and other electronic devices are frequently placed on different surfaces and are handled throughout the day. Any items which are regularly handled will benefit from antimicrobial protection, reducing the risk of microbial growth and cross-contamination.
Retail and Hospitality
Bins, baby changing tables, toilet door handles, keypads – there are many applications in the retail and hospitality environment which have frequent human contact and become favourable environments for bacterial growth, making antimicrobial protection advantageous in protecting surfaces and customers alike.
Are you looking for antimicrobial protection for your plastic mouldings? Contact us today to enquire about Broadway's antimicrobial solutions or to find out more about our + performance range of performance enhancing additives for plastics.