Products & services
If you're seeking a trusted, reliable, plastic materials manufacturer, then you're in the right place. Whether you need custom colours, special effects, functional additives, a niche compound or a speedy, off-the-shelf colouring solution, Broadway can help.
We're proud to provide high-quality masterbatches, compounds and rotational moulding powders, delivered with fast lead times. Our customers can expect attentive service and expert technical support. We're happy to help customers who have no experience of plastic manufacturing, as well as those who know exactly what they need. Whatever your requirement, our friendly team will offer the support you need.


Our Products
We supply three main product types; masterbatches, compounds and rotational moulding powders. Custom colours can be matched within three to five working days and production masterbatch orders can be dispatched within five working days of an order confirmation. Our colour and effect masterbatches are combinable with performance additives from our extensive selection. If you need a colour quickly then try our off-the-shelf solutions. We have a universal masterbatch range of 122 colours and over 20 colours for rotational moulding powders. Stocked products are often available on next day deliveries, with minimum orders of just 1kg for masterbatch.

FREE Colour Matching
Colour matching plastics is an art, and one which we're pretty good at! With a powerful combination of old heads and new colouring technology, we'll provide accurate colour matches, with cost-efficient formulations and industry leading turnaround times. If you require a custom colour then please take advantage of our FREE colour matching service. Once we've formulated your colour, we'll post sample colour plaques to you for approval, free of charge. Alternatively, you can join us on-site, to approve your matches as they're developed in our fantastic colour suite. You have nothing to lose in allowing us the opportunity to deliver a fast, accurate colour match, a competitive price and the promise of great service.
Plaques & Samples
As well as offering FREE colour matching and sample plaques, we can also supply material samples for line trials. Colour plaque chains showing our universal range can also be posted for customers to review. Get in touch with our knowledgeable, friendly team to discuss your requirements; sales@broadwaycolours.com

Quality assured
Our custom colour masterbatches are polymer specific, this means they're designed for optimum performance when dosed into our customers' chosen material. Formulated for specific requirements, our colour and additive masterbatches are renowned for their accuracy and consistency. We ensure our custom formulations meet specific needs on heat stability and light fastness and comply with any necessary regulatory requirements. We work to a market-leading colour tolerance of just one Delta E. All our roto powders are ground to a standard 500 microns in order to suit a variety of applications including complex mouldings. We also offer various melt flow options.
Reasons to use Broadway
Fast lead times – next day deliveries achievable
Consistent, accurate products of premium-quality
Cost-efficient formulations, providing competitive prices
Experts in colour matching and customised solutions
On site colour matching service – great for colouring PCR
Impressive special effects portfolio
Comprehensive range of performance additives
Extensive testing facilities and rigorous QC procedures
Low minimum order quantities
Call-off and consignment stock services
Current European food, toy, medical and REACH compliance
Excellent customer service from knowledgeable, friendly staff
Established, family-owned business, trading internationally
ISO9001 and ISO14001 accredited supplier

Broadway's Sustainable Solutions
We offer a range of products and services to support customers in achieving their sustainability goals. In addition to the below we can also develop masterbatches with a PCR carrier resin, as well as PCR-based compounds. If there's something else you're looking for then please get in touch to discuss your requirements.
Blowing Agent

Use less material, save money!
After successful trials with an industry partner, we recently brought our new endothermic blowing agent masterbatch to market. The product works by creating a fine foam structure in the material whilst the polymer is in a liquified state. Tiny pockets of gas mean the moulding material is less dense, resulting in a lighter end component and a reduction in the volume (and therefore cost) of the polymer required to manufacture it. Reducing material usage of course offers environmental benefits.
The utilization of an endothermic reaction has benefits over exothermic blowing agents which are more widely available. An endothermic chemical foaming agent is less hazardous – it doesn't release harmful gasses or emit heat, making it a safer choice. There's also very little chance of an uncontrolled runaway reaction (generating excessive heat). Broadway's new blowing agent masterbatch is not an imported, traded product. It was developed by our in-house technical team and is manufactured at our factory in the UK, offering enhanced security of supply.
Trials on a thin-walled packaging component, produced for a multinational consumer goods company were completed early in 2023. The masterbatch was dosed at just a 1% addition rate. It outperformed competitor alternatives, achieving a reduction in weight of over 8% in the end component. There were no notable differences in the dimensions of the moulding or any perceivable difference when compared to the control mouldings. Projected figures suggest that in just two specific packaging applications, the use of Broadway's blowing agent will deliver cost savings of around £110,000 and a polymer reduction of 105 Tonnes over a five-year period. When combined with the introduction of recycled polypropylene, the moulder estimates a carbon saving of 58% associated with the lifecycle of these components.
Other advantages for the customer over thin-walling or resizing the component are that there are no tooling costs, no changes to filling and packaging lines and no changes to the product's appearance. Lightweighting components, (without reducing dimensions/strength) can offer great benefit in other market sectors where plastics play a vital role, including automotive, aerospace and construction.
Odour Neutraliser

Reduce odours in smelly materials
Whilst there are obvious circularity advantages to using recycled materials, there are challenges too, such as the smell! Recycled plastics can come from a range of sources and carry a multitude of contaminants, many of these cause odours which are problematic during production and can remain present in the end component. Even some virgin plastics can carry smells which need eliminating. Whilst these can be masked with a fragrance, this isn't always desirable, particularly in applications such as toiletries or food packaging. It's also a temporary solution, which soon fades, meaning end products can still present undesirable odours.
Our R&D scientists invested months of research, exploring odour neutraliser additives for plastics. They consider these a more effective and permanent solution than attempting to mask smells with a fragrance. Specialist chemicals within our new odour neutraliser additives act to absorb and trap VOCs and other odour molecules. This significantly reduces the amount of odorous particles which are released, therefore reducing the perceived smell of the material. We've explored a number of functional additives in order to find a commercially viable solution which delivers optimum performance.
NIR-Detectable Black

Improve recycling compatibility with our NIR detectable 'piano black' masterbatches
High opacity, high gloss black plastics are a popular packaging choice, commonly used to offer products a premium appearance. Carbon black pigments – traditionally utilised to achieve such a finish, present inherent difficulties to the NIR detection systems used at waste sorting plants. They are strong absorbers of radiation both in the visible and infrared regions. This limits the amount of infrared radiation which can be reflected into the NIR detectors, placing considerable limitations on the system's ability to characterise and sort the polymers. Conservative estimates from industry indicate that 30,000 – 60,000 tonnes of black plastic packaging may be entering the UK waste stream each year as a result of this issue.
The in-house laboratory at Broadway has called upon its extensive experience in colour chemistry to overcome this technical barrier. Our NIR-detectable piano blacks have undergone extensive and successful in-house NIR spectroscopy based tests, returning a distinct and statistically significant spectroscopic signature. Compatible with both PET and PP, these masterbatches produce a high-quality gloss 'piano' black finish whilst meeting standard food contact regulations. It redefines what can be achieved when it comes to maintaining a premium appearance, whilst safeguarding the ability to sort the end component in standard recycling waste streams.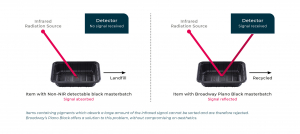 Colouring PCR

We're experts in colouring recycled material
With the world focused on reducing plastic waste; brand owners, moulders and consumers are rightly seeking sustainable options. PCR (Post Consumer Recycled) plastics offer an obvious solution – reprocessing waste packaging into usable materials for re-moulding. Our colourists are well-versed in colouring PCR, our team delivers dozens of matches for use in recycled plastics every week.
Many brands already enjoy the benefits of working directly with us. Broadway's colour suite allows you to join us on-site to approve matches. This process means several new colour samples can be approved in a single day, saving time on product development. This facility is particularly useful when colouring recycled plastics. Our team can use a sample of your base material to demonstrate exactly how a specific batch of recyclate will impact the end colour of your moulded component. We'll produce samples whilst you wait.
Precision Pigment Placement
Our expert colourists have produced over 50,000 custom colour matches. Our team will take a number of important criteria into account when selecting pigments or dyestuffs for your formulation. These include heat stability, polymer compatibility, lightfastness, toxicity, metamerism, colour criticality and cost.
Our Colour Suite
Broadway's colour suite allows moulders, designers and brand owners to join us on-site to approve their matches. With access to our friendly team and expert colourists, this process saves precious time and money on development as several colours can be developed, reviewed and approved in a single day. Recent upgrades offer you further insight into our process. A window to our brand new laboratory allows sight of our colourists at work, formulating your colours.
This facility provides the perfect solution in response to the ever increasing demand for colouring PCR (post-consumer recycled) material. Using sample material from your specific batch, our team can demonstrate how PCR content will impact the colour of the end component. Our impressive wall displays showcase a large variety of colours, special finishes and end products – providing extra inspiration should you need it. Our knowledgeable team will be on hand to offer support each step of the way. With free Wi-Fi available, your office is never too far away, but you're welcome to just sit back and enjoy the coffee whilst we do all the hard work for you.

"Color is a power which directly influences the soul"
Wassily Kandinsky

What is masterbatch?
Masterbatch is used to add colour or enhanced properties to plastic components. It's a concentrated formula of colourants and/or effects and/or additives, combined with fillers, encapsulated within a carrier plastic resin. Masterbatch is supplied in pellet form to be dosed into raw polymer for use in plastic manufacturing. Masterbatch can be used with virgin polymer or used with recycled plastic. We encourage customers to consider using PCR (post-consumer recycled) resins wherever possible. Want to know more? Check out our detailed article for a deeper explanation of masterbatch and its incredible role in enhancing product colours.
Click here
to learn more!
Why do I need masterbatch?
Anyone creating a coloured plastic item will tend to require a coloured masterbatch. Broadway can develop and supply plastic colourants in the form of masterbatches, for plastic moulders to use in production. Masterbatch is almost always the preferred choice for colouring plastics. Most coloured plastic components we encounter in our daily lives will be coloured with masterbatch. As the pigments or dyes are encapsulated within a pellet, masterbatch ensures a much cleaner process than would otherwise be experienced by using liquid colours in plastic manufacturing. This can minimise waste and significantly reduce downtime in production. It also allows very accurate control of colour dosing and distribution. It's not just about colour though, masterbatches can also be used to achieve a number of special finishes within plastics. Additive masterbatches can improve processing and enhance the properties of end components.
What is the cost of Broadway's colour matching service?
A colour match will usually be free, we'll do the match and post sample plaques free of charge. On rare occasions where specialist constituents are needed to complete the match then Broadway will be in touch to discuss any associated costs before we start work.
Can I get a free sample?
In many cases, small samples can be obtained free of charge. Please call us to discuss your requirements. Postage costs for samples will be dependant on location.
How long will it take for my order to be dispatched?
Universal Masterbatch: From one working day (dependent on current stock availability) Custom Masterbatch: From five working days (dependent on current production schedules) Custom Compounds: From five working days (dependent on current production schedules) Universal Roto powders: From one working day (dependent on current stock availability) Custom Roto powders: From three weeks (dependent on current production schedules) Please remember to allow time for delivery. Broadway deliveries are reliant on external courier services.
What are the minimum order quantities for Broadway's materials?
Universal Masterbatch: 1kg Custom Masterbatch: 5kg Custom Compounds: 25kg Universal Roto powders: Small lots available in multiples of 20kg Custom Roto powders: 1,200kg
Which polymers do Broadway manufacture masterbatches for?
Broadway provide polymer specific masterbatches for use in HDPE, LDPE, PPCO, PPHO, PET, PBT, GPPS, HIPS, ABS, PA66/PA6, SAN, PETG and TPE/TPU. Our Universal Colour Range is designed for use in a variety of polymers.
Which polymers are Broadway's Universal Colour Range compatible with?
Broadway's range of 122 universal coloured masterbatches are suitable for use in PPCO, PPHO, HDPE, LDPE, GPPS, HIPS, SAN, ABS, EVA, POM, PVC, PA and PC. Shades and suitability may vary dependent on material grades and customers are advised to trial all colours before starting production.
Which polymers can Broadway compound?
Broadway can compound many different polymers; polyolefins, polyesters amorphous and styrene polymers. These include: SAN, PET, ABS, PP, HDPE, LDPE and GP. We can run compounds with virgin material or with high levels of PCR (recycled polymer). Broadway are able to source the required polymer, or compound with customer supplied materials.

Enquire today to see how you can benefit from our high-quality materials.