Sustainability and Innovation
Broadway has formed an internal Corporate Social Responsibility Team. The purpose of this initiative is to review and monitor our current processes and propose and implement potential improvements wherever possible. Broadway has been awarded a Silver Ecovadis Sustainability Rating.

Given the public perception of plastic created by the media, greenwashing often sees companies eliminating plastics, but sadly replacing them with alternatives which have a more harmful environmental impact. Other materials may use more resources, more water and energy in production, more fuel in transportation and may not be any more recyclable. We believe it's important for material choices to be based on doing good, not simply looking good in the eyes of consumers.
Nobody wants to see plastic items end up in the environment. But eliminating a material which uses significantly less energy in production than alternatives such as glass and aluminium is not a solution which will provide sustainable benefits for our planet. The relatively low melting temperature of plastics means less heat energy is required in the manufacturing process, reducing CO2 emissions in production. It also reduces weight, lowering energy used in transportation. Plastics used in food packaging are proven to significantly reduce food waste, which in itself is a huge problem for our environment.
Single use carbonated drinks containers are a good example. We see a lot of publicity about plastic bottles ending up in the environment, but in response people will often ask questions like "What's wrong with glass?" Well, the answer is that it's less green than PET. The slide below is taken from research by Polymer Scientist Dr Chris DeArmitt – PhD, FRSC, FIMMM. It contains data from lifecycle analyses. Indeed waste mismanagement needs to be addressed, so we can continue to use the least harmful materials. Carrier bags are another common example where plastics are being replaced with more harmful alternatives. There are many lifecycle analyses which conclude that plastic bags are the greenest choice, contrary to popular belief. More information can be found at plasticparadox.com.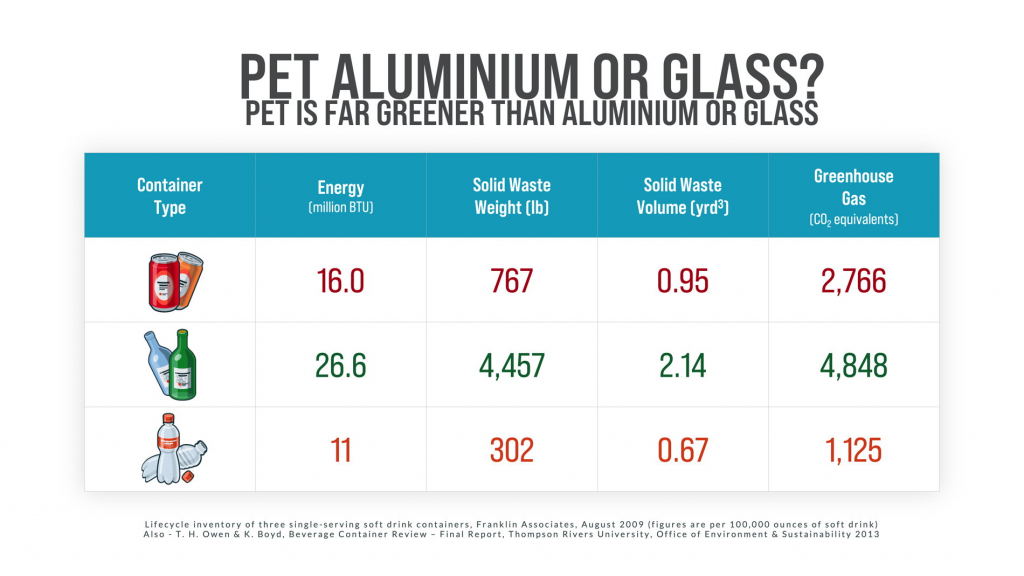 We believe focus must shift from banning plastics to improving recycling infrastructure to sustain their use (in appropriate applications), whilst reducing the plastic waste problem which is so widely reported. We encourage the responsible use of plastics and assist our customers in increasing their use of PCR (post-consumer recycled) material. For branded items this might not result in perfect-looking packaging, but consumers will increasingly turn to products which are manufactured and packaged with the environment in mind. Having the most environmentally friendly product on the shelf beats having the most aesthetically pleasing one. But this is where we come in, as expert colourists we have experience in mitigating the effects of PCR material, helping to ensure products still look appealing, even when using high PCR content. As Broadway's The Body Shop case study demonstrates.
Plastics offer many other benefits. It's a material which we can't live without, despite the bad image it doesn't deserve.
Plastics are used in medical equipment – plastic has been a vital material in fighting the Covid pandemic

Plastics are hugely versatile – there are many critical applications in which only plastics can be used

Plastics can replace metal components used in automotive applications, reducing weight and increasing vehicle efficiency

Plastic can be used in insulation to improve the energy efficiency of our homes and offices

Plastics can reduce the volume and weight of waste going to landfill when compared to alternative materials

Plastic end of life uses are becoming more innovative – outdoor furniture, retaining walls, play equipment, flooring and cladding

Plastics are largely recyclable and recycling rates are increasing

Plastics have a net impact of lowering carbon emissions compared to alternatives – vital in our bid to minimise climate change
Given all the focus on plastic waste, it's hard to believe that plastics are less than 1% of materials. Single use items are unlikely to be positive for the environment regardless of which material they're made from. Plastic won't be the right choice for every application, but the same can be said about every material. We promote the mantra of reduce, reuse and recycle. We encourage brand owners and packaging technologists to study LCAs to minimise the environmental impact of their products. This means not simply overlooking plastics due to negative consumer perceptions and to increase their use of PCR when using plastics. Where plastic is the right choice, Broadway is on hand to help make your products look great.
Broadway's technical knowledge and passion for innovation helps us support customers in developing new products, embracing new ways of working and improving sustainability.
Innovation
Broadway is proud to offer innovative ideas and solutions to our customer base. We strive to be leaders in the field of masterbatch by offering not only pigmented and special effect solutions but also by exploring new ideas, technologies, and additives to enhance our product portfolio.
Over the past quarter of a century we've invested heavily in our R&D capabilities, no more so than in 2021. The construction of a new colour and R&D laboratory will enable a greater level of innovation – facilitating the development of new ideas, colourants and additive masterbatches. Investments in new analytical equipment will ensure our quality control processes maintain the highest standards. This will aid compliance, reproducibility, and will assist our customer base in their product development. This investment will enable us to bring new products to the marketplace in a much shorter timeframe.
Our commitment to investing in R&D extends to our workforce, with additional personnel and training. Our technical staff are experts in their respective fields, our team have PhDs in various scientific disciplines. Our colourists have vast experience in colouring plastics – coupled with the use of specialist tools and software, this allows us to accurately colour match in a wide variety of polymers and highly colour critical applications. Additional lab space has increased our colour matching capacity, meaning we can complete an ever-increasing volume of matches whilst maintaining short lead times. Our growing team of QC technicians are integral to our process, along with our dedicated Regulatory Compliance Division who oversee every aspect of our raw materials and finished goods. They'll ensure our products are compliant with each customer's specific requirements and they play an increasingly vital role in navigating UK Reach regulations. Such investments will help us realise our aim of becoming a leading partner in our customers' product development.
Our current development projects include strategies for:
Greater applications of PCR material

Greater emphasis on using sustainable additives

Improving the electrical and thermal conductivity of polymers

Desiccant and blowing agent masterbatches, plus several other functional additives
If you need a niche masterbatch, compound or roto powder then please let us know. Our market-orientated approach means we always like to hear of the latest requirements. If your project presents an opportunity, then Broadway's technicians can perform development work to create suitable materials to support you.