Greener
solutions
from your
colouring
experts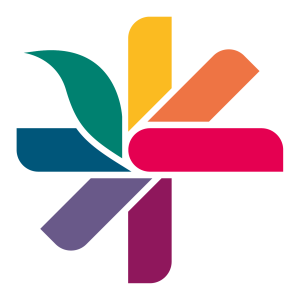 Manufacturing with the environment in mind
Our environmental management systems are ISO14001 accredited
We've installed over 1,700 solar panels on the roof of our factory
All our products are manufactured using 100% green energy
We're exploring the use of carbon negative pigments in our plastic colourants
Our new product development maintains a focus on improving sustainability in plastic manufacturing
Our internal CSR team review our existing processes and make recommendations for continuous improvements
We're proud to have been awarded EcoVadis Silver Sustainability Ratings in 2022 and 2023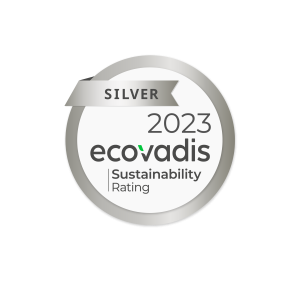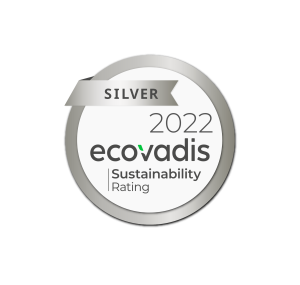 Broadway's Sustainable Solutions
We offer a range of products and services to support customers in achieving their sustainability goals. In addition to the below we can also develop masterbatches with a PCR carrier resin, as well as PCR-based compounds. If there's something else you're looking for then please get in touch to discuss your requirements.
Blowing Agent

Use less material, save money!
After successful trials with several industry partners, our new endothermic blowing agent masterbatch is available to order. The product works by creating a fine foam structure in the material whilst the polymer is in a liquified state. Tiny pockets of gas mean the moulding material is less dense, resulting in a lighter end component and a reduction in the volume (and therefore cost) of the polymer required to manufacture it. Reducing material usage of course offers environmental benefits.
The utilization of an endothermic reaction has benefits over exothermic blowing agents which are more widely available. An endothermic chemical foaming agent is less hazardous – it doesn't release harmful gasses or emit heat, making it a safer choice. There's also very little chance of an uncontrolled runaway reaction (generating excessive heat). Broadway's new blowing agent masterbatch is not an imported, traded product. It was developed by our in-house technical team and is manufactured at our factory in the UK, offering enhanced security of supply.
Trials on a thin-walled packaging component, produced for a multinational consumer goods company were completed early in 2023. The masterbatch was dosed at just a 1% addition rate. It outperformed competitor alternatives, achieving a reduction in weight of over 8% in the end component. There were no notable differences in the dimensions of the moulding or any perceivable difference when compared to the control mouldings. Projected figures suggest that in just two specific packaging applications, the use of Broadway's blowing agent will deliver cost savings of around £110,000 and a polymer reduction of 105 Tonnes over a five-year period. When combined with the introduction of recycled polypropylene, the moulder estimates a carbon saving of 58% associated with the lifecycle of these components.
Other advantages for the customer over thin-walling or resizing the component are that there are no tooling costs, no changes to filling and packaging lines and no changes to the product's appearance. Lightweighting components, (without reducing dimensions/strength) can offer great benefit in other market sectors where plastics play a vital role, including automotive, aerospace and construction.
Odour Neutraliser

Reduce odours in smelly materials
Whilst there are obvious circularity advantages to using recycled materials, there are challenges too, such as the smell! Recycled plastics can come from a range of sources and carry a multitude of contaminants, many of these cause odours which are problematic during production and can remain present in the end component. Even some virgin plastics can carry smells which need eliminating. Whilst these can be masked with a fragrance, this isn't always desirable, particularly in applications such as toiletries or food packaging. It's also a temporary solution, which soon fades, meaning end products can still present undesirable odours.
Our R&D scientists invested months of research, exploring odour neutraliser additives for plastics. They consider these a more effective and permanent solution than attempting to mask smells with a fragrance. Specialist chemicals within our new odour neutraliser additives act to absorb and trap VOCs and other odour molecules. This significantly reduces the amount of odorous particles which are released, therefore reducing the perceived smell of the material. We've explored a number of functional additives in order to find a commercially viable solution which delivers optimum performance.
NIR-Detectable Black

Improve recycling compatibility with our NIR detectable 'piano black' masterbatches
High opacity, high gloss black plastics are a popular packaging choice, commonly used to offer products a premium appearance. Carbon black pigments – traditionally utilised to achieve such a finish, present inherent difficulties to the NIR detection systems used at waste sorting plants. They are strong absorbers of radiation both in the visible and infrared regions. This limits the amount of infrared radiation which can be reflected into the NIR detectors, placing considerable limitations on the system's ability to characterise and sort the polymers. Conservative estimates from industry indicate that 30,000 – 60,000 tonnes of black plastic packaging may be entering the UK waste stream each year as a result of this issue.
The in-house laboratory at Broadway has called upon its extensive experience in colour chemistry to overcome this technical barrier. Our NIR-detectable piano blacks have undergone extensive and successful in-house NIR spectroscopy based tests, returning a distinct and statistically significant spectroscopic signature. Compatible with both PET and PP, these masterbatches produce a high-quality gloss 'piano' black finish whilst meeting standard food contact regulations. It redefines what can be achieved when it comes to maintaining a premium appearance, whilst safeguarding the ability to sort the end component in standard recycling waste streams.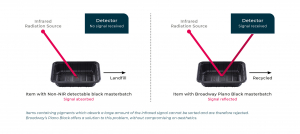 Colouring PCR

We're experts in colouring recycled material
With the world focused on reducing plastic waste; brand owners, moulders and consumers are rightly seeking sustainable options. PCR (Post Consumer Recycled) plastics offer an obvious solution – reprocessing waste packaging into usable materials for re-moulding. Our colourists are well-versed in colouring PCR, our team delivers dozens of matches for use in recycled plastics every week.
Many brands already enjoy the benefits of working directly with us. Broadway's colour suite allows you to join us on-site to approve matches. This process means several new colour samples can be approved in a single day, saving time on product development. This facility is particularly useful when colouring recycled plastics. Our team can use a sample of your base material to demonstrate exactly how a specific batch of recyclate will impact the end colour of your moulded component. We'll produce samples whilst you wait.
Our technical knowledge and passion for innovation helps us support customers in embracing new ideas, developing new products and improving sustainability.
Broadway is proud to offer innovative ideas and solutions to our customer base. We strive to be leaders in the field of masterbatch by offering not only pigmented and special effect solutions but also by exploring new ideas, technologies, and additives to enhance our product portfolio.
Over the past quarter of a century we've invested heavily in our R&D capabilities, no more so than in 2021. The construction of a new R&D and colouring laboratory enables a greater level of innovation – facilitating the development of new ideas, colourants and additive masterbatches. This investment allows us to bring new products to the marketplace in a much shorter timeframe. New analytical equipment ensures our quality control processes maintain the highest standards. This aids compliance, reproducibility, and will assist our customer base in their product development.
Our commitment to investing in R&D extends to our workforce. Our laboratory team – lead by Dr. Stephen Rayner, are experts in their respective fields. Our colourists have vast experience in colouring plastics – coupled with the use of specialist tools and software, this allows us to accurately colour match in a wide variety of polymers and highly colour critical applications. Additional lab space has increased our colour matching capacity, meaning we can complete an ever-increasing volume of matches whilst maintaining short lead times. Our team of QC technicians are integral to our process, along with our dedicated regulatory compliance division who oversee every aspect of our raw materials and finished goods. They'll ensure our products are compliant with customer specified regulatory standards. They play an increasingly vital role in navigating UK Reach regulations. Such investments are helping us realise our aim of being a trusted partner in our customers' product development.
If you need a niche masterbatch, compound or roto powder then please let us know. Our market-orientated approach means we always like to hear about the latest requirements. If your project presents an opportunity, then Broadway's technicians can perform development work to create suitable materials to support you. Email: technical@broadwaycolours.com.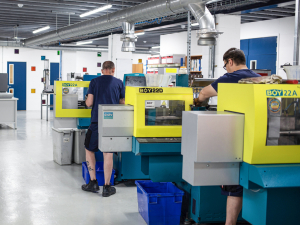 Plastic – it's better than you've been told
Given the public perception of plastic created by the media, greenwashing often sees companies eliminating plastics, but sadly replacing them with alternatives which have a more harmful environmental impact. Other materials may use more resources, more water and energy in production, more fuel in transportation and may not be any more recyclable. We believe it's important for material choices to be based on doing good, not simply looking good in the eyes of consumers.
Nobody wants to see plastic items end up in the environment. But eliminating a material which uses significantly less energy in production than alternatives such as glass and aluminium is not a solution which will provide sustainable benefits for our planet. The relatively low melting temperature of plastics means less heat energy is required in the manufacturing process, reducing CO2 emissions in production. It also reduces weight, lowering energy used in transportation. Plastics used in food packaging are proven to significantly reduce food waste, which in itself is a huge problem for our environment. The British Plastics Federation offers some excellent information on this subject – read more here.
Single use carbonated drinks containers are a good example. We see a lot of publicity about plastic bottles ending up in the environment, but in response people will often ask questions like "What's wrong with glass?" Well, the answer is that it's less green than PET. The slide below is taken from research by Polymer Scientist Dr Chris DeArmitt – PhD, FRSC, FIMMM. It contains data from lifecycle analyses. Indeed waste mismanagement needs to be addressed, so we can continue to use the least harmful materials. Carrier bags are another common example where plastics are being replaced with more harmful alternatives. There are many lifecycle analyses which conclude that plastic bags are the greenest choice, contrary to popular belief. More information can be found at plasticparadox.com.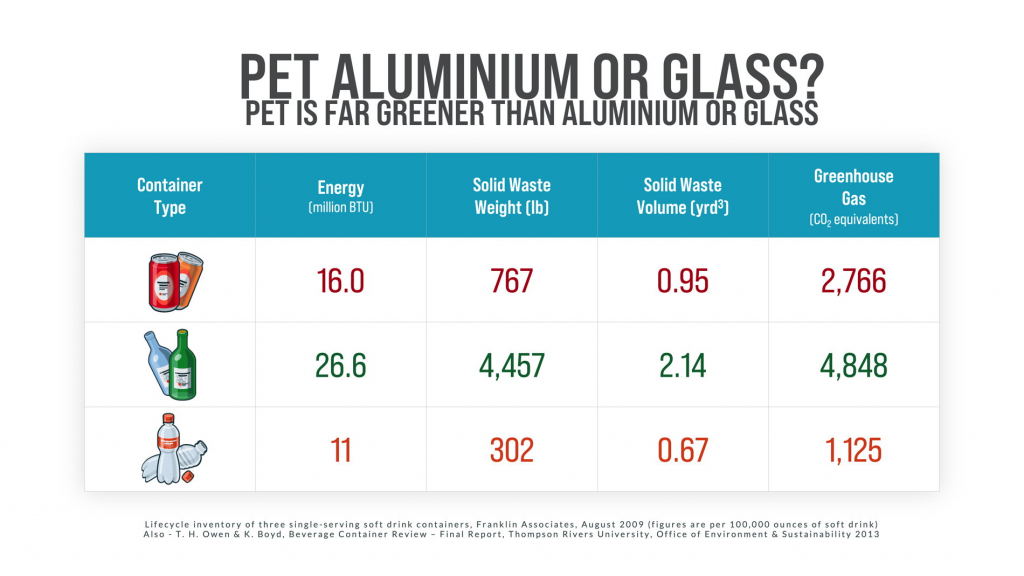 We believe focus must shift from banning plastics to improving recycling infrastructure to sustain their use (in appropriate applications), whilst reducing the plastic waste problem which is so widely reported. We encourage the responsible use of plastics and assist our customers in increasing their use of PCR (post-consumer recycled) material. For branded items this might not result in perfect-looking packaging, but consumers will increasingly turn to products which are manufactured and packaged with the environment in mind. Having the most environmentally friendly product on the shelf beats having the most aesthetically pleasing one. But this is where we come in, as expert colourists we have experience in mitigating the effects of PCR material, helping to ensure products still look appealing, even when using high PCR content. As Broadway's The Body Shop case study demonstrates.
Plastics offer many other benefits. It's a material which we can't live without, despite the bad image it doesn't deserve.
Plastics are used in medical equipment – plastic has been a vital material in fighting the Covid pandemic

Plastics are hugely versatile – there are many critical applications in which only plastics can be used

Plastics can replace metal components used in automotive applications, reducing weight and increasing vehicle efficiency

Plastic can be used in insulation to improve the energy efficiency of our homes and offices

Plastics can reduce the volume and weight of waste going to landfill when compared to alternative materials

Plastic end of life uses are becoming more innovative – outdoor furniture, retaining walls, play equipment, flooring and cladding

Plastics are largely recyclable and recycling rates are increasing

Plastics have a net impact of lowering carbon emissions compared to alternatives – vital in our bid to minimise climate change
Given all the focus on plastic waste, it's hard to believe that plastics are less than 1% of materials. Single use items are unlikely to be positive for the environment regardless of which material they're made from. Plastic won't be the right choice for every application, but the same can be said about every material. We promote the mantra of reduce, reuse and recycle. We encourage brand owners and packaging technologists to study LCAs to minimise the environmental impact of their products. This means not simply overlooking plastics due to negative consumer perceptions and to increase their use of PCR when using plastics. Where plastic is the right choice, Broadway is on hand to help make your products look great.
Employee health and wellbeing
Flexible Working
We offer a number of flexible working options such as shift rotas, flexible start and finish times and remote working where this is possible. This helps our employees in balancing both work and personal commitments.
Cycle to Work
Our employees have access to the Evans Cycles Ride-to-Work scheme. As well as encouraging a healthy, eco-friendly means of transport, this scheme also allows our employees to benefit from a tax saving on their cycling equipment.
Mental Health First Aiders
We have a number of Mental Health First Aiders at Broadway. They've been trained to give them the knowledge and skills to provide support to those who may be experiencing poor mental health or emotional distress.
Learning and Development
Employee development is essential for any successful business. Broadway has continued to invest in training our employees both internally and with the support of external providers.
Living Wage
We are delighted to be an accredited Living Wage Employer meaning every employee at Broadway will earn a real Living Wage, not just the government minimum. The real Living Wage is an independently calculated hourly rate of pay that is based on the actual cost of living. We believe that a hard day's work deserves a fair day's pay.