Broadway Colours have now relocated to their new fully customised 90,000 sq ft premises.
The extra room acquired in the new building has allowed the purchase of state-of-the-art QC equipment, as well as extra manufacturing equipment. So we will be able to produce a higher volume of product without compromising our market-leading quality. Not only this but we have now taken on more staff so that we can do all this with ultimate efficiency and maintain our renowned high level of customer service.
Nick Barber, Operations Director said – "The company has seen some exciting growth over the past few years, which facilitated the move to the new premises. It is an important step for the company, having both the masterbatch and grinding sites now under one roof, as this now gives us the opportunity to be more efficient, more lean and ultimately more productive. This new building provides plenty of scope for future growth, and provides us with the space we need to increase our output without compromising quality or service. These are exciting times for the company, and I would encourage anybody to visit the new premises and see how far we have come, and where we intend to go."
Colour Match in Comfort
As part of the extensive customisation of the new building, we have installed a brand new on-site colour matching facility. This allows customers to visit the site and have their colours matched and approved in the same day, with all the comforts of home. There are tea and coffee making facilities as well as wifi and wired internet access, so the office is never too far away.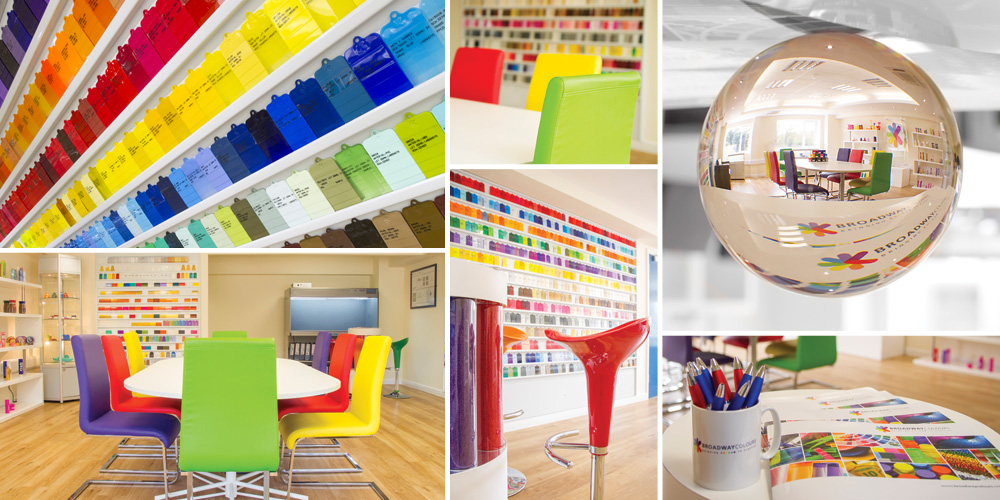 With a plethora of products on display, you will not be short of inspiration. Couple this with our market-leading special effects portfolio and colour selection area, you will be able to create a shelf-busting product range with ease.
Come and See For Yourself
To have a colour match carried out on-site, and make use of the new facilities, please call 01986 875100, or e-mail sales@broadwaycolours.com to make an appointment. Even if you just want a tour of the new building, you would be more than welcome.
Please note our new address…
Broadway Colours Ltd, Beccles Road, Upper Holton, Nr Halesworth, Suffolk, IP19 8NQ